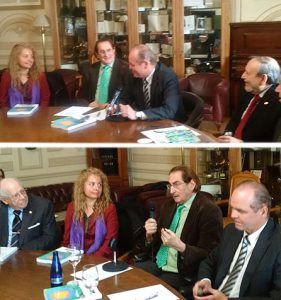 On 12 April, the book "Crónicas de la Tercera España" (Chronicles of the Third Spain) was presented by its author Joaquín Antuña at the Casino de Madrid. The host was the journalist José Luis Yzaguirre, as part of the "Juan Sebastián el Cano" gatherings that are held every Tuesday in the Torito Hall.
The event was attended by the Ambassador of the Slovak Republic Vladimir Gracz, the painter Francisca Blázquez and Alfonso Ramonet, director of protocol of the Archbishopric of Madrid.
The painter Francisca Blázquez, who carried out the illustration on the cover of the book, commented on his intention to strengthen the light that the author is giving to the world with his foundation Peace and Cooperation, in his words the Ambassador says that more than the third Spain are the third Spain, a supporter of unity in diversity, the wonderful diversity that the country has, as well as addressing serious and serious issues, from corruption, politics to religion.
Joaquín Antuña mentions how it is not a question of being neutral, he bets on the Spain of freedoms and religious faith, open to the world and proud of its traditions, which strives for the welfare of the entir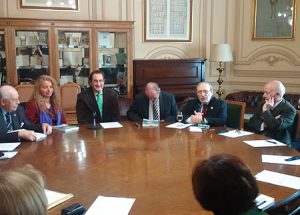 e population and solidarity with all countries of the world, where of course corruption and all kinds of bad practices are rejected.
"It is my utopia in the Four Hundredth Anniversary of Cervantes' death, in which Don Quixote teaches us the strength of Utopia to prepare a future of solidarity, where love and creativity reign and sectarianism, hatred and discord are banished", said the author.
This third book completes what he calls "Tríptico hispano", which includes "El Hombre Perplejo" (The Perplexed Man), "El Laberinto Español" (The Spanish Labyrinth) and, of course, the "Crónicas de la Tercera España" (Chronicles of the Third Spain).