Representatives of the Spanish Peace and Cooperation Foundation visit the Embassy of Nicaragua in the frame of the activities that flourish in Madrid on the eve of the International Fair of Tourism (FITUR). I had the opportunity to visit the Nicaraguan embassy accepting the kind invitation of its ambassador and writer H.E. Mr. Carlos Midence, who, after our visit, issued a statement that I reproduce below adding some comments of my own.
«The President of the Spanish Peace and Cooperation Foundation, Joaquín Antuña, and Arturo Pérez, Adviser and Spanish Diplomat, have visited the Embassy of Nicaragua, with the aim of discussing the possibilities of collaboration for the promotion of Nicaragua in Spain».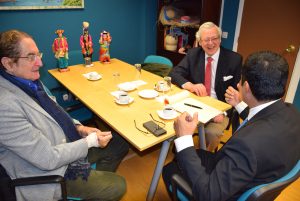 «The Comrade Ambassador Carlos Midence, during the meeting, expressed his thanks and greetings from the Government of Reconciliation and National Unity, chaired by Commander Daniel Ortega and Vice President, Rosario Murillo. He also informed them about the safety of Nicaragua, considered the best in the region, her potential as a tourist destination, acknowledged by prestigious international magazines such as Vogue, Condé, Nast Traveler or Forbes, an ideal investment destination, transformation of the energy sources and coverage of 98% nationwide».
On our visit Arturo and I were able to check the talent of the ambassador as a notable writer and publicist, expert in Rubén Darío. In front of a map of his nation he described a country rich in contrasts with many volcanoes and the largest freshwater lake in Central America.
We did not enter into political issues and we focused on drawing a human, social and cultural profile of a Nicaragua with many points of interest that are Cultural Heritage of Mankind and that deserves to be visited for its beautiful landscapes and rich cuisine in which corn comes first in perfect combination with the piglets of Spain. Rice and beans is one of the exquisite dishes. For smokers, its famous cigars and coffee that the Ambassador describes as the best in the world.
«Success achieved in gender equality, number five in this area, certified by the World Economic Forum, advances in road infrastructure, inroads, bridges, ports, agri-food self-sufficiency, creative economy, culture review, gastronomy, history, universal heritage declared by UNESCO, and on products such as coffee, meat, cocoa, cigars, honey that, due to the incentive and redistributive public policies of the Government of Reconciliation and National Unity, have positioned themselves as the best in the world.
The representatives shared their consent to collaborate in promotional activities in the country through talks in high schools, the Diplomatic Academy, among other centers, in which the products and information of current Nicaragua are also made known.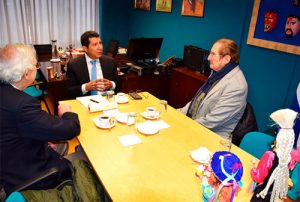 With the Riojano Centre, the Ambassador will organize a pictorial exhibition, rich in folklore, on February 6. This ambassador develops a great activity. His great interest in showcasing Nicaragua's role in the world and his passion for giving a colourful version catches the interest of his listeners.
Dear friends, politics sometimes separate people, while culture and fraternity unite us. In my long stay in Mexico I learned to consider Sandino as a Garibaldi of America and I was enchanted by the verses of Rubén Darío. For this reason, at the end of our pleasant visit, Arturo, as always elegant and galactic, I will say with Victor Hugo "Long live humanity!".
«Joaquín Antuña, a Lawyer, traveller and publicist, has played various roles at the United Nations. In Spain he has been a pioneer in the field of Development Cooperation and Education for Peace. He has published "Verso il Duemila" (in Italian), "The Strategy of Hope", "Fifty Ideas for Peace", among others.
In 1982, he founded Peace and Cooperation and ever since then he has distinguished himself as an organizer of major public events. Arturo Pérez is a career diplomat for more than 40 years, author of the book "Aspects of Japan seen by a Spanish diplomat", with an extensive diplomatic experience in destinations such as Japan, USA, Canada, Australia, Bangladesh and Switzerland. »
Those who have a traveling tendency should consider among their preferences Nicaragua and learn to love a country of the bronze race, rich in culture and charm.