GOLDEN MEDAL FOR HUMANITARIAN MERIT (MAY 31, 2018)
Granted by the Academy of Science and Health Ramón y Cajal.
Santiago Ramón y Cajal, our great Nobel Prize laureate, used to say, "ideas don't last long, you have to do something with them". This maxim has inspired the recent creation of the Ilustre Academia de Ciencias y de la Salud Ramán y Cajal, created by great professionals with the aim of organizing, promoting, supporting and tutoring scientific events, as well as humanitarian projects by great national professionals.
The philosophy of the Academy seeks to recognize quality in the field of health as in others and encourage the careers and careers of each professional by giving them awards, diplomas and distinctions that recognize the effort, train them and encourage them.
It is a matter of strengthening the values of the professionals so that they reach the maximum quality and enrich the social system.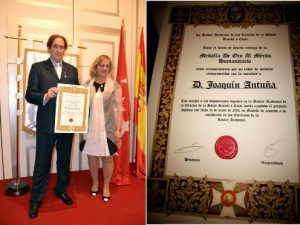 The Peace and Cooperation Foundation has been distinguished with the Medal for Humanitarian Merit, which rewards the work of all those professionals, companies and institutions that have been characterized by their humanitarian and charitable action before the most needy.
This award is given to those who, after a detailed study carried out by our team of specialized advisors, decide that they deserve this privilege, once their dedication and service to humanitarian causes has been demonstrated.
Peace and Cooperation that was created by me on December 2, 1982 has developed multiple development cooperation projects and has distinguished itself in the field of health in the coordination of the health system of the municipality of Villa El Salvador, a young village in Lima, Peru, which includes 12 medical posts and a laboratory, project piloted by Michel Azcueta, a visionary mayor. For the collaboration with the rehabilitation hospital for the disabled, including the victims of the Intifadas, of the Bethlehem Arab Society, in Bethlehem, Palestine, with funding for several operating theatres, medical material, equipment for the cafeteria and the sending of volunteers.
Also noteworthy is the contribution to the project of Father Charles, a Altoatesino priest with two Austrian and Italian souls, who in the Dndebele territory has a wonderful project of abandoned, malformed and HIV-affected children. An auditorium, a guesthouse and prevention and information campaigns on HIV were built.
In addition to these three projects, outpatient clinics have been financed in Mauritania with special attention to motherhood and childhood.
On its website, the Ramón y Cajal Academy informs us that the Humanitarian Medal is specifically designed for those professionals and companies that dedicate their efforts to help, maintain and search for solutions that make possible the development of foundations, NGO associations and individuals that work in solidarity on humanitarian causes and social actions to improve the lives of the most needy and unprotected.
Excellent people who are necessary for the world to be a more pleasant place in which to live.
The Board of Directors is chaired by Dr. Carmen Slocker de Arce, whose Vice President is Dr. Javier López-Ibor, both with outstanding academic curricula. It has two honorary academicians, Dr. Francisco Javier Fernández Perianes and Dr. Leandro Plaza Celemín.
This recognition is very honorable for Peace and Cooperation that has surpassed the 35 years of existence and that at present has embarked on an ambitious program of education to the world.
The Academy indicates that this recognition allows the professionals with this distinction to add to our record of achievements an official commemoration supported by a certified Institution, which provides them with a better personal brand image and great professional prestige, endorsed by the excellent professionals who constitute the Academy.
Obtaining this award is a real challenge to overcome and follow our work, is a starting point. Finally, I would like to pick up another thought by Santiago Ramón y Cajal: "Every man can be, if he proposes it, a sculptor of his own brain".