The Santos Ángeles Custodios de España, Amigos del Cuerpo Nacional de Policía association celebrated its traditional solidarity meeting attended by several well-known personalities.
The traditional charity dinner of the Santos Ángeles Custodios de España, Amigos del Cuerpo Nacional de Policía association was held last weekend in the Real Aéro Club of Spain salons. This meeting was celebrated under the chairmanship of Francisco de Borbón y Escasany, duke of Seville, in attendance of several well-known personalities from his board of directors, including Luis Alfonso de Borbón Martínez-Bordiú, duke of Anjou, the executive chair Diego de Guillamón, Sofía de Borbón, the chief commissioner José Villar del Saz, David de Guillamón, Antonio Sánchez de León Cotoner and Raúl Felipe Escudero.
Everything that was collected during the event had a solidarity purpose : support the victims of the volcanic eruption that had occurred in La Palma island.
Thus, a solidarity raffle was organised with several wins included two grants from the Society for international studies, a painting given by Mayte Spínola y Barreiros, benefactor of the Pro Arte foundation and author her-self of the painting, and several card games from Juega España, one of the duke of Anjou's latest project.
The cocktail reception was animated by Tuna Botín and the dinner by opera performances, as the national police tenor D. Juan Ledesma de la Concepción performance.
Moreover, the association Merit medal was awarded at this event to personnel from the national police, armed forces, security forces and corps and private security, as well as well-known personalities, in recognition of their commitment to Spanish society.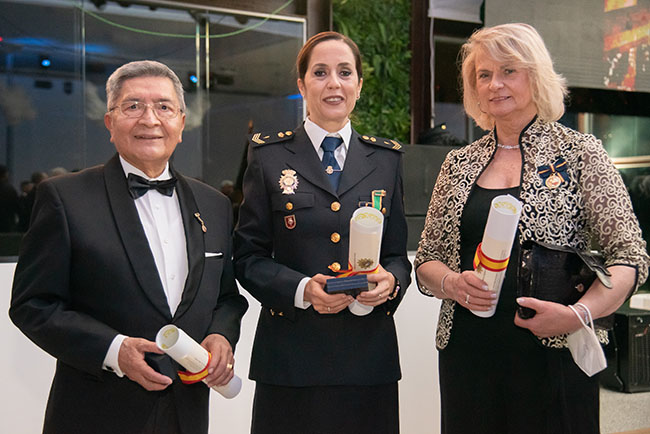 From left to right : Eduardo Guaylupo Roncal, Rosa María Chamorro Salvador, president of the Héroes de Cuatro Patas de la Policía Nacional association, and Rosa Olazabal Valle, president of the Peace and Cooperation foundation. 
Article published in: Hola.com