The United Nations International Day against Nuclear Tests was celebrated in Vienna on 29 August 2019. Peace and Cooperation was invited to participate for the second consecutive year with the following message sent by Joaquín Antuña and transmitted to the attendees by the Director of the United Nations Information Service in Vienna, Mr. Martin Nesirky:
On this International Day against Nuclear Tests 2019, I wish to convey my sincere congratulations to the students who have produced beautiful and meaningful works of art to raise awareness of the threat to our mother earth by the persistence of nuclear tests.
Last year, on this same day, August 29, our Peace and Cooperation delegate, Mrs. Elvira Sánchez-Igual, announced our school art campaign with CTBTO, "Let's Join Forces for a Safer Planet.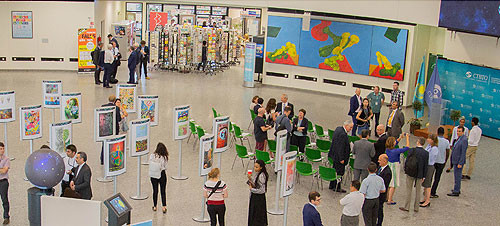 The result was an avalanche of brilliant drawings and paintings through which students expressed their urgent calls to end all nuclear testing in order to ensure a safer world.
An awards ceremony was held on June 27 of this year during CTBTO's Science and Technology conference, attended by children from places such as Azerbaijan, Bosnia-Herzegovina, China and Namibia. Here, today, you can see many examples of this brilliance and I encourage you to look closely at the images.
Both the work of the students and the work of CTBTO are moving examples of how humanity does not need to fall into the trap of hatred and discord, but can promote positive measures to avoid a nuclear holocaust.
CTBTO's Science and Technology conference showed us scientists and activists united in a noble cause. These positive steps to find ways to improve the quality of life set our roadmap at the Peace and Cooperation Foundation. After this art campaign with CTBTO and another with the United Nations Office for Outer Space Affairs (UNOOSA), we are now preparing for a new OSCE adventure focusing on security and co-operation in Europe.
These projects are a good example of collaboration between civil society, international organizations and the Spanish Ministry of Foreign Affairs, European Union and Cooperation. By joining forces, we achieve great goals, reaching internationally to extend our reach to youth.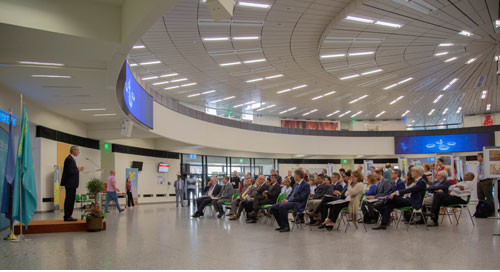 We are very grateful to Dr. Lassina Zerbo, Executive Secretary of CTBTO, and to the Ambassador of Spain Senén Florensa, for their support to the project. I would also like to thank Ms. Jenny Nielsen of CTBTO, who coordinated the entire school campaign, and Ms. Laura Fernández-Abad of the Permanent Representation of Spain to the United Nations and other international organizations in Vienna.
The International Day against Nuclear Tests provides guidelines for action in the context of the Sustainable Development Goals, and brings hope and light to the future of younger generations. We must approach this day as a milestone for world peace. Common sense is our motto. There are no saviors, no culprits; we are all in the same boat. We need the goodwill of all.
Let us be positive and try to convince people of the need to preserve our planet as a safe place! Let us talk about the beauty of mountains, valleys, seas, rivers, flowers, trees, birds and all creatures. Let's spread this feeling of belonging to this wonderful world, let's love and respect it. Let us join forces with CTBTO and all the United Nations for a safer planet!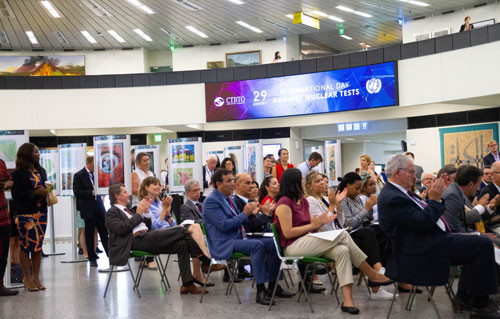 During this day, in the Rotunda that unites the five arms that make up the United Nations organizations present in Vienna, some of the best works presented for the 2019 Peace and Cooperation School Award "For a Safer World – Let's Join Forces with CTBTO" were exhibited. This is the second time that children's and young people's creativity has been shown in the service of peace. The first one was on the occasion of the special Expo of the contest "Looking at the stars" organized by UNOOSA and by Peace and Cooperation.