Gandhi and Mandela protagonists
The school, Caude de Majadahonda, in Madrid, honored figures like Mahatma Gandhi and Nelson Mandela in a conference dedicated to the UNESCO culture of peace. The conference was organized by Cuade and the NGO, Peace and Cooperation.
The Ambassador of India, Sanjay Verma, Ambassador of Ghana, Elizabeth Adjedi, and education city councilor of Majadahonda, Fátima Núñez, representing Narciso Foxá, mayor of Majadahonda participated.
In addition, Isabel Couso from the Education Directorate General of the Community of Madrid on behalf of General Director Ismael Sanz Labrador participated. Scholar Day was also delighted to host the Cultural Advisor of Iran, Alireza Esmaeili, the first Christian Secretary from Cyprus, Cristiana Tazika, the third secretary of Russia, Alexey Balashov, and the president of the Madrid Athletic Foundation, Adelardo.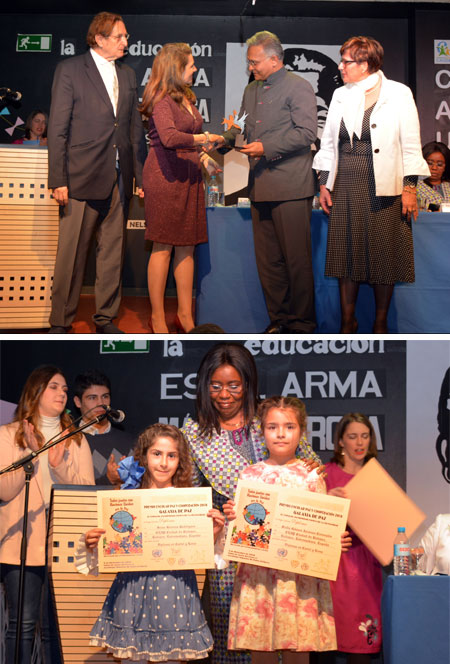 Elizabeth Adjei gave a powerful speech on education in Africa and highlighted her country's achievements in schooling students up to the age of 18. Sanjay Verma proclaimed that humanity is living its best moment and that its current conflicts can be solved peacefully.
Isabel Couso directed a message full of depth addressing the issue of inequality and the necessity of improved education. She recalled her emotional visit to Robben Island in Mandela's jail as well.
Fátima Núñez was happy to support this peace initiative in the schools of her city, Majariega.
Pilar Barroso received the Mother Teresa trophy, donated by Peace and Cooperation, in gratitude for their 5 years of collaboration which was awarded to them by the Ambassador of India, Sanjay Verma.
Joaquin Antuña explained the philosophy of Peace and Cooperation which consists of introducing important global issues to schools so that students and teachers are the leaders of the future, sharing the values of the United Nations.